Aerial Drone Photography at St. Mary's Church, Stotfold
http://completepropertyphotography.co.uk/wp-content/themes/osmosis/images/empty/thumbnail.jpg
150
150
John McBurney
John McBurney
http://2.gravatar.com/avatar/2daa3d33e5be3970e2d19885a7aeb2a0?s=96&d=mm&r=g
Our plans for 2018
Complete Property Photography recently had a press release published in The Comet newspaper describing our plans to photograph historic churches in the local area during 2018. This all came about after we visited the St. Mary Magdalene Church in Caldecote and captured some beautiful aerial photographs. It was such an enjoyable experience that we decided to make this our new hobby.
As qualified commercial drone operators covering Hertfordshire and Bedfordshire we are keen to put our photography equipment to good use, but it doesn't always have to be work, work, work!  It is also important to have some fun. So, after some planning, we decided that the church we wanted to photograph next would be St. Mary's Church in Stotfold. Well, it is in our home town after all. We liaised with the church rector, the Reverend Bill Britt and received approval to use the drone for aerial photography.  We are very happy to present to you some of the photographs that we were able to capture. We hope you enjoy them as it was an exciting experience and we had an interesting time taking them.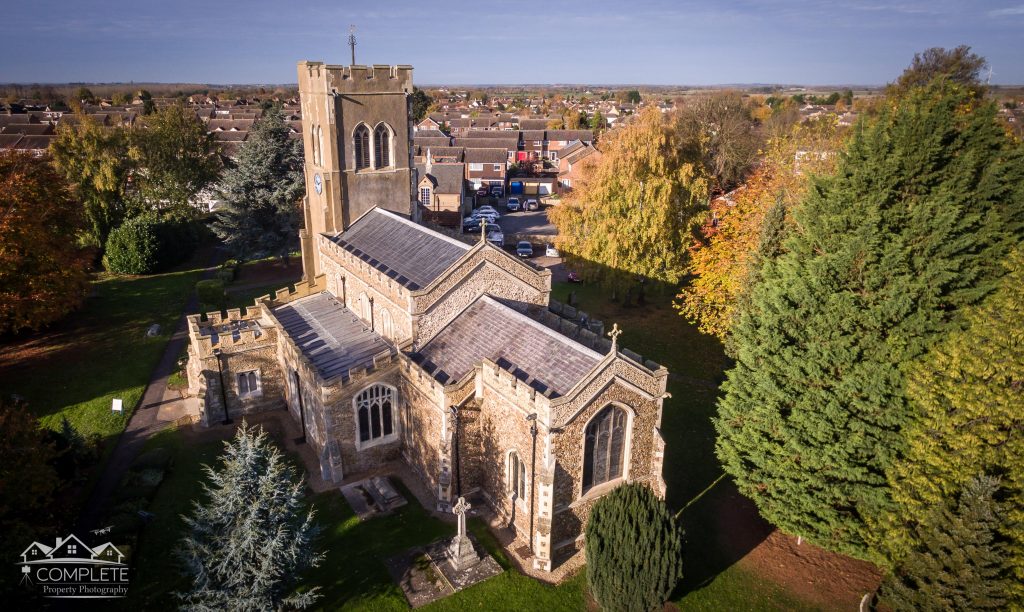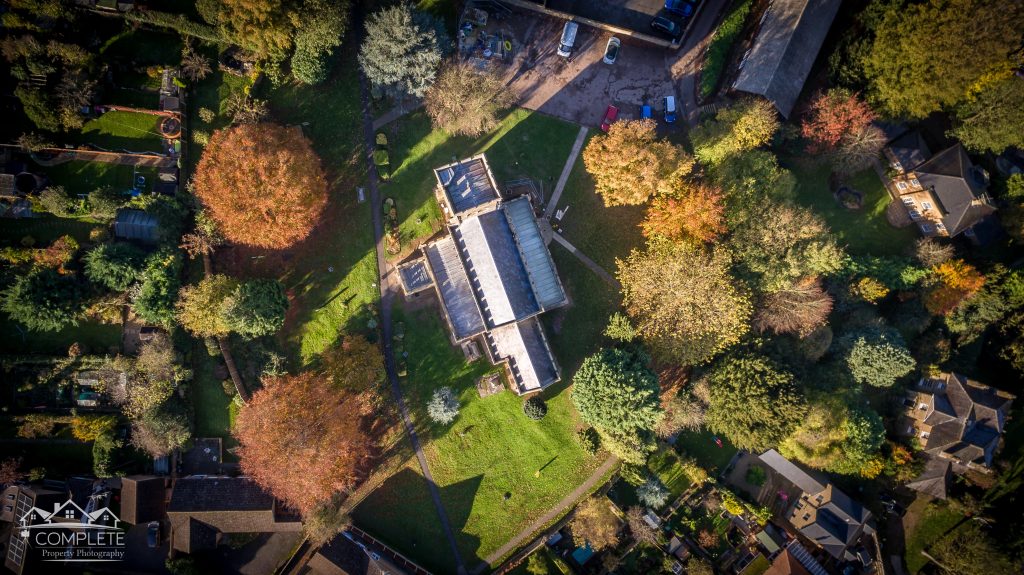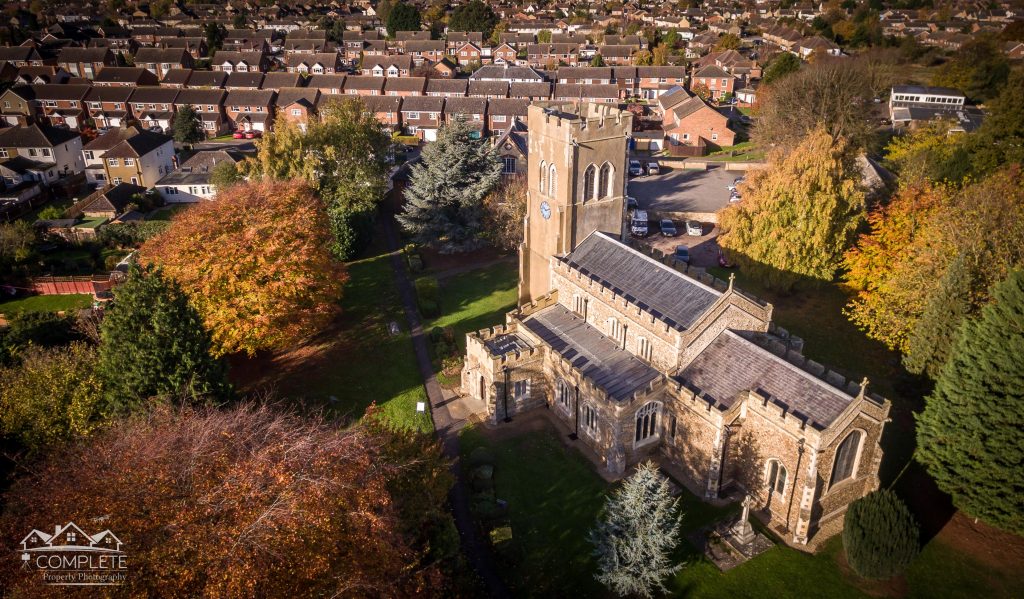 Window of opportunity
During the winter months there is far less scope to get out and take photographs with a drone. Typically, there is strong wind and rain, which means we cannot fly the drone for safety reasons. Also, at this time of year, there is lots of cloud and from a photographic perspective things can be a little dull. As a result, you simply have to wait for the window of opportunity to arrive.  It's a case of waiting for the sun to come out and for the wind to go away, and then, quick as you like, get the drone up in the air and hopefully capture some beautiful shots.
The St. Mary's Church photo shoot was split into two. The first shoot was conducted mid November last year. At the time we were working on a film project in Stotfold. We were making a location film; a short film to showcase Stotfold and highlight the positive things the town has to offer. Location films are great; an effective marketing tool for estate agents but also a fantastic way to celebrate all things good about a town.  For that project we needed to capture aerial video footage of St. Mary's Church. St. Mary's is probably the most historic building in the town and as such was always going to be one of the main shots in the film. Once filming was complete we had only one remaining fully charged battery for the drone. This would provide around 12 minutes flight time and we knew that this would not be enough time to comprehensively photograph the church building and grounds, also, it was the middle of the day, and you can't get a sunset shot at midday. So, we returned, some three months later at the end of February for the 2nd shoot.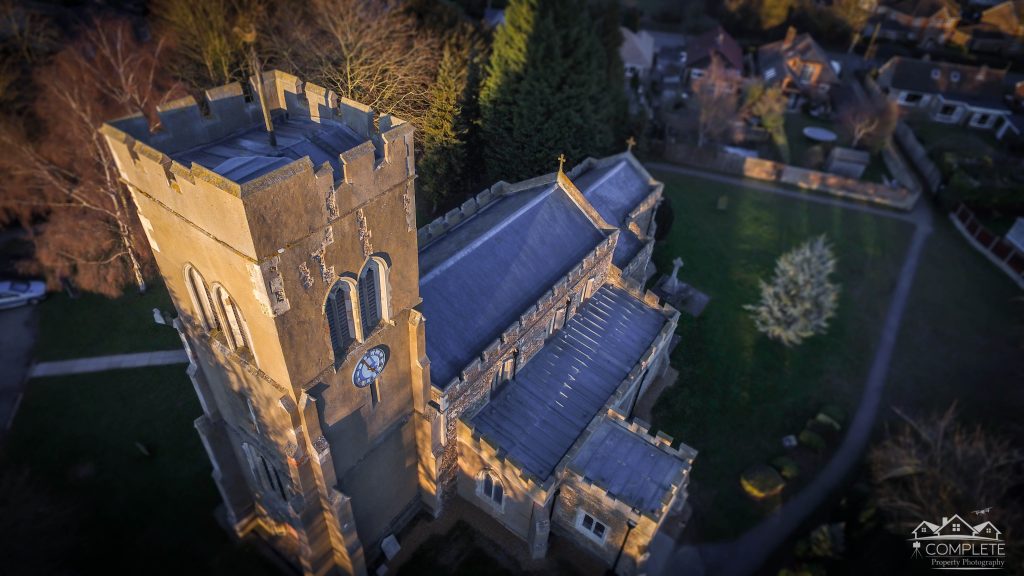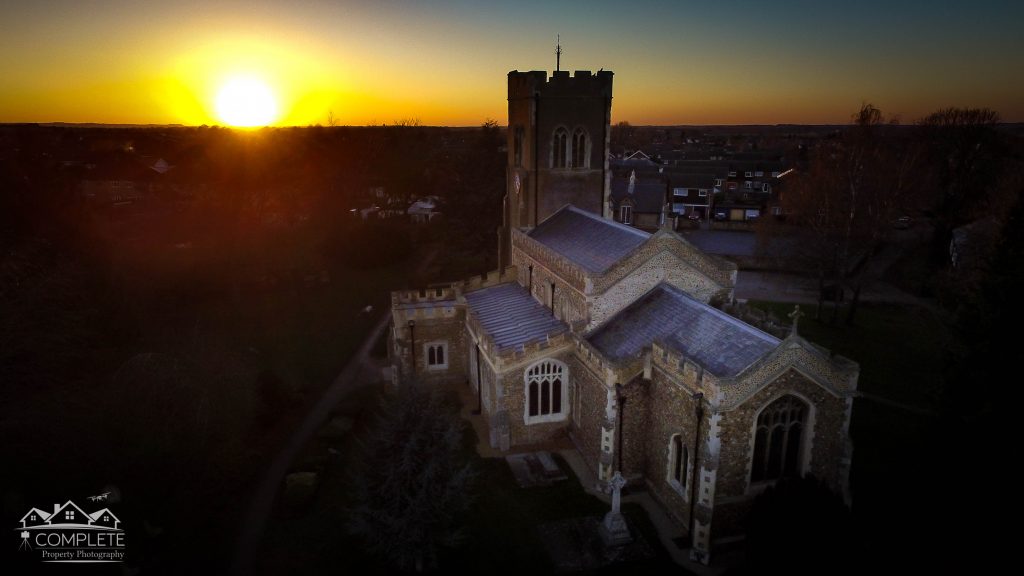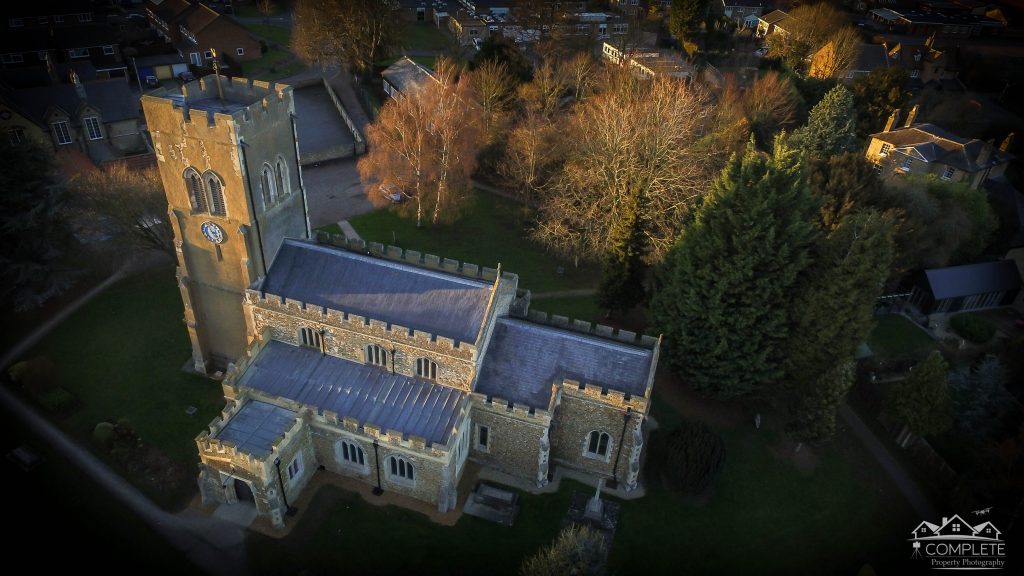 Beautiful sunset shots
Within that time the seasons had changed dramatically and the evidence is clear to see. The 1st batch of photographs, from mid November, clearly show the autumn colours still present in the trees and foliage. Compare this to the more recent photos we captured and you will see the contrast. The 2nd photoshoot was done on a bitterly cold day, in fact it was the very same day that the recent cold snap began, the infamous 'beast from the east'. In many respects we were quite fortunate as the the following day there was lots of snow and for the next 7 days there was no potential for drone flight.
We are particularly happy with the sunset shots. Bedfordshire and Hertfordshire are beautiful counties. A large amount of that beauty emanates from the towns and villages dotted across the countryside, and where you get towns and villages, you also get churches; centuries old, steeped in history, and of course perfect for aerial photography.
We are currently planning our next aerial drone church shoot, so watch this space.